Each year sports teams and brands search for new and improved ways to better their fan engagement strategies with creative ideas and activations. It can be challenging for teams to know what will engage fans in a meaningful way and provide them the best possible experience. So we came up with the Top Fan Activations during the first half of 2019 to give you some inspiration.
1. NFL Team Schedule Release
This year, NFL teams got creative with releasing the 2019-2020 regular season schedule and fans were here for it. The Atlanta Falcons took a spin off of Games of Thrones while the Dallas Cowboys used props, Amari Cooper and Jerry Jones himself. The Kansas City Chiefs made it a way to celebrate its 60th season, using throwback games to preview their opponents. Teams can garner higher engagement rates by leveraging player personalities, humor and relevant trends to connect with fans on a more personal level.
2. Mavs + Dirk N + AR
The Dallas Mavericks went above and beyond honoring the retirement of legendary Dirk Nowitzki during his last home game on April 9, 2019. The Mavericks released four unique augmented reality experiences for fans to take part in the celebration. This activation started a week before Nowitzki's last home game with the unveil of his life size mural and carried over to game day. By using SnapChat fans were able to unlock the AR experience and watch their tickets, posters and the mural come to life with Nowitzki's best 21 shots from his last 21 seasons.
3. MLB Announcing Team Hashtags
Before the 2019 MLB season kicked off, MLB had each of its teams pick a new hashtag that the league would debut with its own emoji on Twitter. Once all of the teams settled on a hashtag, MLB created a release for all 30 teams. The one minute video gained over 817 retweets, 4,500 impressions and created an active conversation for fans and teams to engage each other.
The 2019 emojis are here!

Which hashtag are you going with? pic.twitter.com/Ds8fELaFRN

— MLB (@MLB) March 20, 2019
4. Fox Sports on Best NFL Fan Base
Fox Sports took to Twitter to determine the best NFL fan base in a series of polls. The series started with a bracket that showed teams seeded based on Twitter followers. After teams were seeded, they were paired against each other for fans to show support by voting on their favorite team. After each poll, the team with the most fan votes moved onto the next round. For example, the Cleveland Browns took on the Chicago Bears in the "Final Four voting" Twitter poll and saw over 169,000 fan votes. In the end the Cleveland Browns had the most fan votes, securing the title of "Best NFL Fan Base."
We have a Champion! 🙌

The Best NFL Fan Base goes to the @Browns! pic.twitter.com/vSAa61mdjr

— FOX Sports: NFL (@NFLonFOX) April 9, 2019
5. Twitter's Women's World Cup #GoldenTweets
Twitter took advantage of the media attention the 2019 FIFA Women's World Cup was getting and created an opportunity for fans to get engaged. The social media platform announced that they would be awarding #GoldenTweet to users across the platform for the best tweets and coverage of the Women's World Cup. The social campaign included multiple award categories such as most retweeted fans, players, brands, journalists and more. The #GoldenTweet award went to Mike Magee after he tweeted out a video of his daughter kicking around a soccer ball after being inspired by the US victory and role models of the Women's World Cup.
I've tried every trick in the book to get my daughter to play soccer. Never pushed her but she simply didn't want to play. She's out kicking a ball against the wall by herself. Not because of me. Because of you @USWNT. Thank you. pic.twitter.com/1MyegLYNPh

— Mike Magee (@magee18) July 8, 2019
6. London Series Bobblehead Giveaway
For this year's inaugural London Series, the MLB teamed up with FOCO to give away bobbleheads that resembled Boston and New York players. To add a bit of delight to the fan experience, each attendee received a bobblehead of either Andrew Benintendi, Mookie Betts, Aaron Judge, or Giancarlo Stanton. This simple giveaway activation is a great first impression to London's MLB fan base.
7. NBA All-Star Voting
This year, as NBA players geared up for the All-Star game, their fate was in the hands of the media, fellow NBA players, and most importantly its fans. This activation allowed fans to have a stake in deciding which players should be in the All-Star game. The media and other NBA players together accounted for 50 percent of the vote, where as fans alone made up the other 50 percent. Fans voted on NBA.com, the NBA app, as well as googling a specific team or player. Lebron James led with over 1 million votes and secured a captain spot in the West. While Giannis followed in second before Lebron with over 900,000 votes and Stephen Curry came in third with over 700,000 votes.
LeBron/Steph and Giannis/Kyrie lead the first returns of #NBAAllStar Voting 2019 presented by @Google!

Vote on https://t.co/R6fBO5LSAS, the NBA App or by searching for your favorite player or team on Google.
Vote now! https://t.co/gcW4K59HC0 pic.twitter.com/JIZFyIC2Pu

— 2020 NBA All-Star (@NBAAllStar) January 3, 2019
8. Colorado Rockies
The Colorado Rockies ran a social media campaign to give fans the chance to vote on the team's hashtag for the 2019 season. The Rockies came up with four different hashtags and created a poll for fans to vote on their favorite hashtag. The poll got over 3,300 votes and created a social opportunity for fans to feel more connected with the team.
Classic. Community. Cool. Collective.

We want you to pick our hashtag emoji for the season. VOTE here and/or REPLY write-in a suggestion! 📲

— Colorado Rockies (@Rockies) March 7, 2019
9. FIFA Women's World Cup FanPics
During the 2019 Women's World Cup, the FIFA Fan Zone took a 360 Fan Pic at the first and final matches of the tournament. Fans could participate in this photo by finding and tagging themselves via social media. This served as a virtual experience for those who were in attendance to share the experience on social media with fans who weren't at the game.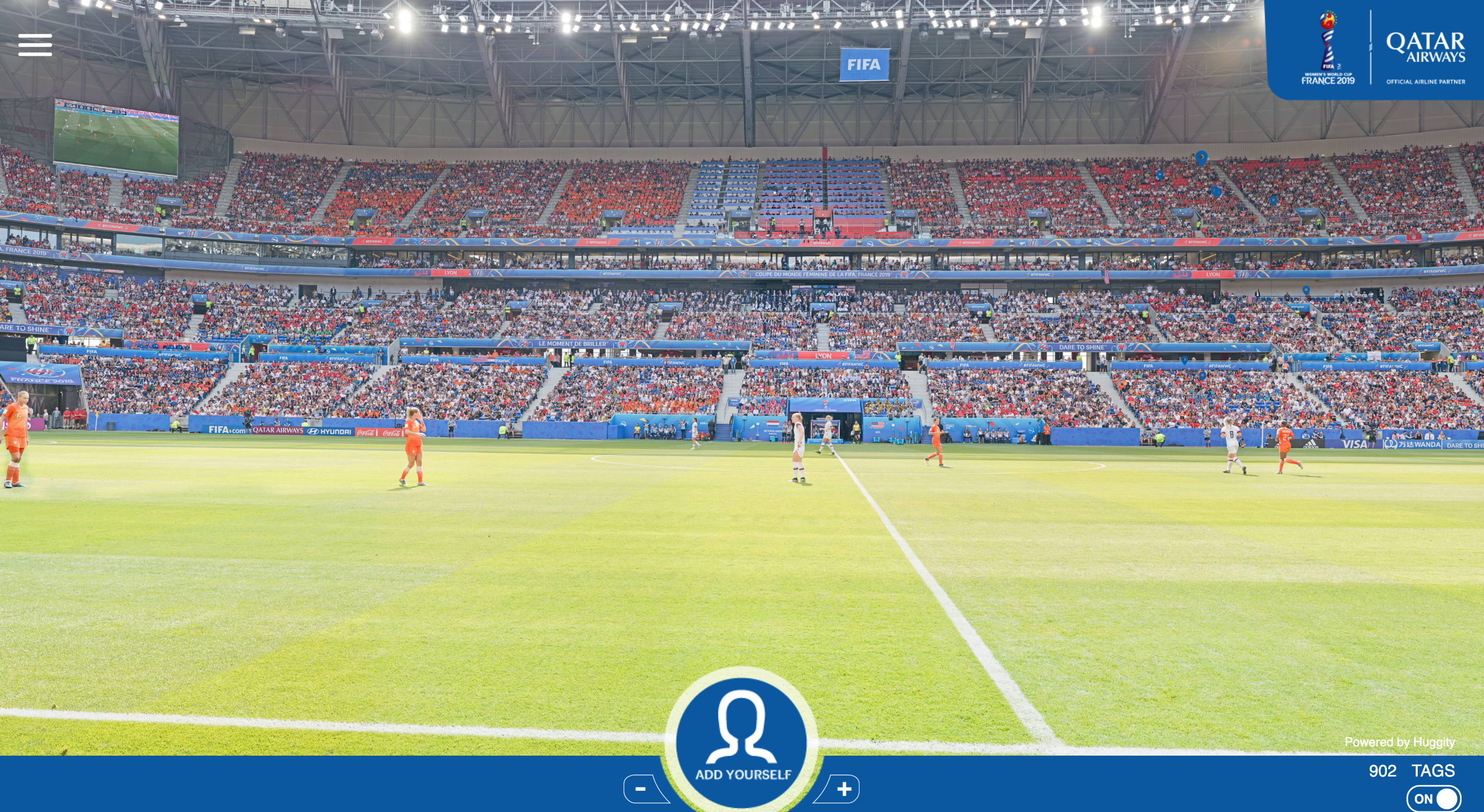 10. NBA "Heroes Wanted" Bus
The NBA gave its fans the ride of a lifetime with its "Heroes Wanted" NBA Playoffs pop up activation bus. The NBA built its Playoff marketing campaign around the "superheroes" of the NBA. The bus featured big-name players and included Beats by Dre listening stations, an NBA 2K gaming lounge, and an NBA Pick'Em: Playoffs Bracket Challenge sign-up. Stationed outside of the NBA store in New York City, the bus created a space for fans to come together.
Marvel is playing a central role in the #NBAPlayoffs. The NBA has unveiled the NBA Playoffs Pop Up, a double decker bus wrapped in "Heroes Wanted" campaign imagery where fans in LA and NY can take pictures with the Larry O'Brien trophy, play NBA 2K & more. pic.twitter.com/BrMtOPj7Oq

— Alicia Jessop (@RulingSports) April 13, 2019