Women's soccer is reaching new heights at The 2019 FIFA Women's World Cup and up to this point, has fulfilled its promises to be the best one yet. We are finishing up the Round of 16 and records have been broken: viewership is off the charts, seeing a 310 percent increase in streaming content and the United States set the largest win deficit with its 13-0 win over Thailand in its first steps towards winning Group F.
Although the tournament is grabbing everyone's attention with the energy and determination on the field, the real excitement is what the game is doing off it. It's putting women—the athletes, fans, referees, and coaches—at the center of soccer. This tournament will no doubt have a profound impact on female empowerment (a lá Germany's women's soccer team ad) and the growth of women in sports, paving a new future for the business side of women's sports.
So let's dig into the top women's soccer trends we are seeing with this year's 2019 FIFA Women's World Cup and how they'll impact the future of the game.
Growth
The Inaugural FIFA Women's World Cup was played in 1991 in China, where the United States women's team secured its first-ever World Cup, and now here we are 20 years later witnessing the same experience, but on a larger scale. Let's take a look at the numbers to see how the landscape of women's soccer in the United States has changed over 20 years:
FIFA announced the goal of doubling women participants worldwide from 30 to 60 million by 2026 allowing the sport the ability to offer vast opportunities for women who love the game. Along with this goal, in 2018 they also put in place a five-pronged global strategy to assist in growing the game. On top of that, FIFA opened up the tournament to 24 teams this year, allowing more nations and its female athletes to gain exposure on a global level.
Overall the interest in soccer has also increased across men and women. In 2018, a survey by Nielsen Sports found that 43 percent of people were interested in women's soccer, which equated to about 105 million people.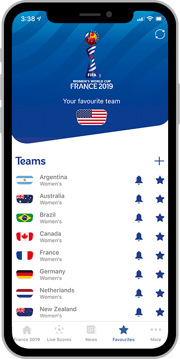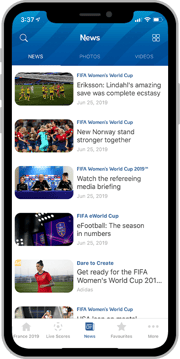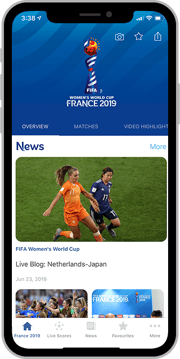 Fan Engagement
With 84 percent of general sports fans having an interest in women's sports (Nielsen Sports), FIFA and its partners are changing the ways they engage with its audience—especially its female audience. Teams are having to reshape and adjust how they engage with their new audience since women think and buy differently than men.
As the female audience continues to grow, teams are faced with the challenge to deliver more content that supports community impact efforts. community. According to Ernst and Young's Groundbreakers report, women reinvest 90 percent of their income back into their families and communities. Community engagements like the FIFA Fan Movement are creating deeper connections with sports fans by tapping into their passions while humanizing the team and their players.
Personalization is key and FIFA did not disappoint when it incorporated its FIFA Fan Movement activation into this year's Women's World Cup. The FIFA Fan Movement is a community created by soccer fans for soccer fans and it has brought to life a different marketing tactic that relies on content to create deeper experiences for soccer fans. Through its hashtags, #WeLiveFootball and #DareToShine, the movement is encouraging all soccer fans to come together and engage in different conversations that every fan can get involved with.
The idea of creating content that relates fans to their idols, serves as a pathway for better engaging a larger, more diverse group of fans. When Megan Rapinoe's hometown was impacted by the Carr fires that destroyed more than 230,000 acres, she and the USWNT were quick to help. Rapinoe, a native of Redding, California, joined forces with the USWNT and Shasta Regional Community Foundation to drive community engagement which resulted in $100,000 donated to rebuild her hometown.
Fan Experience
Even with the pressure, more fans are locked in than ever before. In 2015, the World Cup had a record breaking 750 million viewers around the world (SBNation).These fans are committed to seeing the sport succeed, which brings an opportunity to grow the sport's loyal fanbase and the team's sponsorship value.
In fact, the tournament's fan experience brings an increased interest from fans from all over the globe. In April of this year FIFA reported that ticket sales were "smashing records" having sold over 720,000 tickets with only 50 days till kickoff in France. Then four days into the tournament FIFA announced the major accomplishment, that they sold over a million tickets and 14 of its 52 matches were sold out including each United States match, the quarter-final, both semi-finals, and the championship match.
"... sold over 720,000 tickets with only 50 days till kickoff"
These high ticket sales can partly be attributed to one of the tournaments biggest sponsors, Visa. The credit card company jumped in on fan activations only 2-days after the draw for group teams and gave its cardholders exclusive access to World Cup tickets and fan activations throughout the month. For Visa, its fan activations and marketing tactics will be one of its largest investments in women's soccer and fans are jumping on the opportunity to take part.
Sponsorship Value
Sponsorship in and around women's sport is changing and marketers are eager to rake in the impressions that are to come from engaged, loyal fans. Just with this year's tournament, sponsorship is gaining new value and meaning. With viewership and popularity increasing there is an untapped market that can further expand not only women's soccer but women's sports.
"The global sports sponsorship was worth $106.8 billion."
Visa, one of the tournaments six global sponsors, has pledged to spend the same on marketing for France 2019 as they did for the men's in Russia 2018. This kind of support shows Visa has a wider commitment to sticking with women's soccer.
But there is still an array of opportunity for more sponsors to get involved. A study from 2011-2013 showed that 0.4 percent of total sports sponsorship accounted for women's sports. To put that into money terms, the global sports sponsorship was worth $106.8 billion but only $427.2 million were spent on women's sports. This gap proves that there is growth and value waiting for sponsors who invest in women sports.
What will we see next?
After all is said and done, we could likely see a major change in women's sports and how brands shift their sponsorship dollars from media-based efforts to cause-based marketing. With the current push for gender equality in women's sports, finding that more women are interested in sports, and viewership skyrocketing more doors are being opened for potential businesses.
FoxSports bought the media rights for the World Cup and is airing out 800 hours of coverage across various platforms. Since this move, more brands are going all-in, something that could eventually grow. Verizon, Volkswagen and Coca-Cola -a global sponsor- are playing major roles in pregame, halftime, and postgame offerings as well as fan engagement.
For @crysdunn_19, it's always been deeper than soccer. It's about connecting with teammates on a foundation of friendship, trust and support. Show us your spirit and join us in cheering on the @USWNT this summer. 🙌#BelieveWithUS pic.twitter.com/hmlHfuULoQ

— Coca-Cola (@CocaCola) June 15, 2019
As the matches continue it is clear that the World Cup will be recognized for the strategic moves made on and off the field. Although soccer is a 90 minute game the impact it has is far greater. With over 30 million female soccer players across the globe and millions of new fans generated from this year's World Cup, the evolution of women's soccer is at its highest point than ever before. As fan engagement continues to increase teams can expect to see more growth in sponsorship opportunities which will ultimately change the nature of sports marketing as we know it.
Stay tuned for our next piece about the rise of women's sports by subscribing to our blog.