KANSAS CITY, Mo. — FanThreeSixty, an innovative Fan Data Platform built for high-performing organizations, recently integrated with SeatGeek's new data sharing API to help clients leverage expanded fan behavior to drive more revenue. The integration resulted from a mutual partner in the United Soccer League (USL). Thanks to the integration, USL partner clubs of SeatGeek can now seamlessly access business insights and ticket-purchasing behavior to increase sales and create a better end-to-end matchday experience.
FanThreeSixty's Fan Data Platform empowers organizations to drive intelligent marketing and sales campaigns based on real-time data, improve engagement through more efficient and personalized communications, and expand ticketing revenue more efficiently. Its user-friendly platform sends fans targeted communications based on purchase tendencies and provides other fan-favorite features like digital ticketing, mobile ordering, live streaming, and more. It's the recipe for a more meaningful and personal experience.
FanThreeSixty and SeatGeek are both data-driven companies that go beyond giving the typical event day experience. By directly integrating SeatGeek into FanThreeSixty's Predictive Analytics, such as lead and propensity scores, FanThreeSixty will help identify fans with up to a 25x higher likelihood to purchase tickets, and who spend up to 4x more on tickets.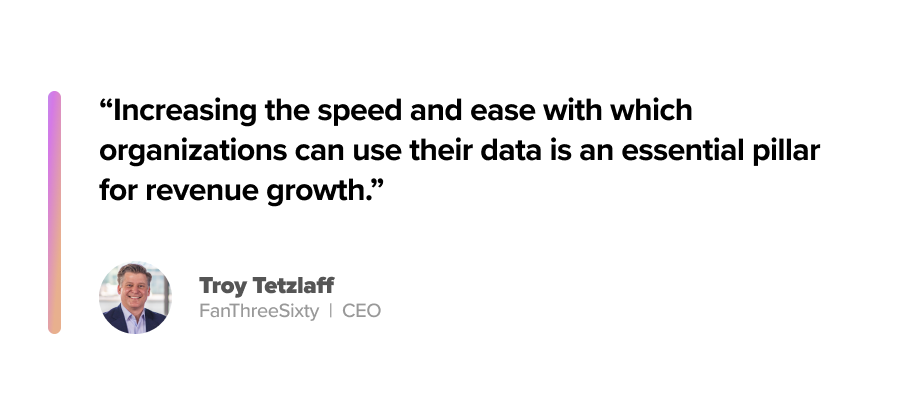 As a completely scalable solution, FanThreeSixty is more than a data warehouse or a visualization tool. The combination of predictive analytics, dynamic audiences, and marketing automation tools make FanThreeSixty a powerhouse that's creating the blueprint for building and engaging fanbases of any size. This new partnership pairs two innovative platforms that are progressively reshaping the live event experience while keeping a fans-first mentality.
---
ABOUT FANTHREESIXTY
FanThreeSixty, a software company, is passionate about helping sports and live event organizations expand revenue, increase efficiency, and elevate fan experience. Its progressive Fan Data Platform provides high-performing organizations with actionable insights, single-fan profiles, dynamic audiences, and a single source of truth so that fans can have a meaningful and more personal event day.
FanThreeSixty is proud to deliver in-the-moment experiences to fans of the MiLB, NCAA, USL, Broadway Across America, Nederlander, Speedway Motorsports, and The Aspire Group. To learn more visit www.fanthreesixty.com.