It's Draft Week, so that means it's time to push pause on the Super Bowl reruns (Go Chiefs) and get ready for the next generation of elite football stars. It's been over a month since the first suspension of live sports, so all eyes are on how the NFL will conduct the draft and execute fan engagement strategies while we #StayAtHome.
As fans of all types are eagerly anticipating that familiar NFL Draft excitement, we're taking a look at how the league plans to take fan engagement virtual during one of sports' most anticipated events of the year (quite literally as it's the first taste of a sports event we've had in some time).
Who knows; some of the below strategies may fit into your current efforts to engage fans at home, or we may learn what NOT to do. Either way, it will likely be a night that paves the way for our new reality of sports and fan engagement.
Predict-the-Pick
Do you think you can accurately predict each pick of the first round? Well, you have the chance to try. The NFL is giving fans the opportunity to predict the order of the 1st round of the 2020 NFL Draft and to play their predictions against other fans. On draft day, the more correct picks a fan makes the more points they get, giving them a chance to win a free trip to Super Bowl LV. Fans can start their own groups with friends or take it to the league level and play for a leaderboard spot.
Predict-the-Pick is a great way to generate pre-draft hype while helping fans feel connected and invested in the outcome, even when their team isn't on the clock.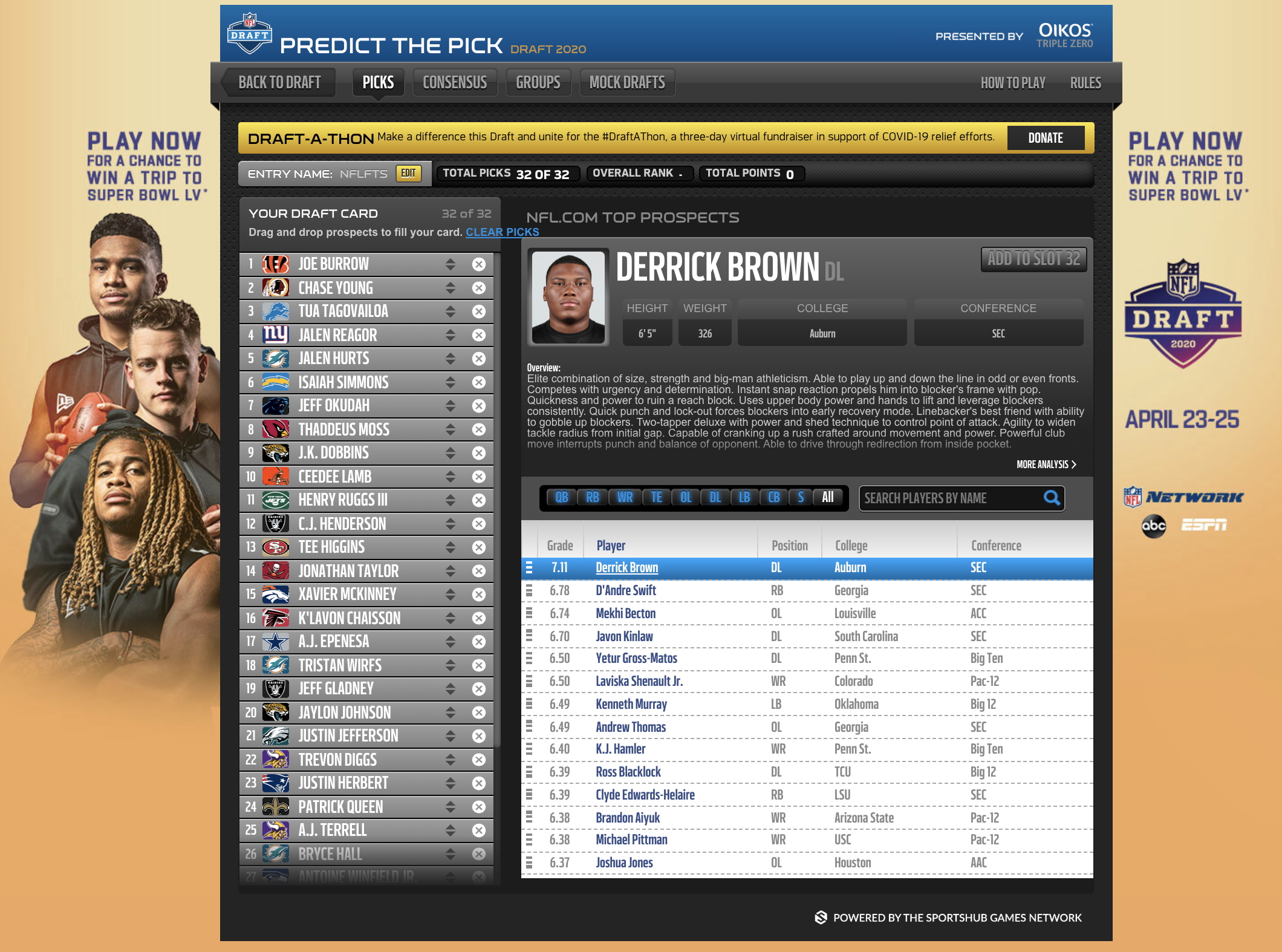 NFL Back2Campus
The NFL conducted interviews with some of 2020's top draft prospects to learn more about obstacles that they have overcome to get to this point, on and off the field.
For example, one highlights Tua Tagovailoa, the Alabama star studded QB who had his senior season end earlier than expected due to a hip injury. His story delves into what his approach has been on transitioning from college to the NFL with all of the questions and uncertainty around his injury.
It's been a long, arduous journey back from a devastating hip injury that almost finished his career, but thanks to his faith and family, @AlabamaFTBL QB Tua Tagovailoa is finally fit to take on the NFL (via @wyche89)

--> https://t.co/PyEaZghurb pic.twitter.com/76joQkQEve

— NFL Draft (@NFLDraft) April 21, 2020
These stories help create a deeper understanding of these players' mindsets and accomplishments, making their entrance into the NFL all the more impressive. These stories give fans a more human connection to the players; and let's be honest, that's something we're all missing from live sports right now.
Virtual Draft Parties
While this year's draft celebrations will look different, fans can still interact with their favorite teams through virtual draft parties. Teams like the Dallas Cowboys are turning their virtual draft parties into one-of-kind fan experiences.
Fans will get access to exclusive content and features, including special guests to break down the team's picks and give their opinions. The Cowboys Draft party will be hosted by Jamie Foxx and retired Cowboy Demarcus Ware. There will be a chance for fans to win phone calls with current players, Cowboys owner Jerry Jones, and Q&A sessions with the front office and coaches.
With teams allowing this type of exclusive access, they may be hard-pressed to go back to more limited fan access of years past, which will likely bode well for future fan engagement strategies.
Draft-A-Thon
The NFL is using its platform to launch Draft-A-Thon, a fundraising campaign in support of COVID-19 relief efforts. The Draft-A-Thon is set to livestream on NFL social media platforms, with NFL stars and other special guests, such as Deion Sanders and Kevin Hart, encouraging fans to join the cause.
Want to Boo Roger Goodell?
Roger Goodell might have had a shot at escaping the annual boos from NFL fans this year at the draft if it wasn't for Bud Light. In a good natured partnership with the NFL, the beer company is asking fans to record their boos from the comfort of their homes and post them to Twitter with the hashtag #BooTheCommish and tag @BudLight.
The NFL Draft will be without an important tradition. And we just can't let that stand. Record your boos then post & tag @budlight and #BooTheCommish. We'll deliver the boos to the Draft, and for each #BootheCommish thru April 25, we'll donate $1 to NFL Draft-a-Thon up to $500K. pic.twitter.com/fnvcYDpZPW

— Bud Light Seltzer (@budlight) April 20, 2020
Bud Light will donate $1, up to $500,000 for each boo that is recorded and posted to Twitter through April 25th towards the NFL Draft-A-Thon. The best part, Goodell, being the good sport that he is, will be able to hear the boo's while announcing the picks from his home.
So fans can raise money for a good cause just by booing the commissioner, which will undoubtedly bring a bit of normalcy to one of the most unique drafts the NFL has put on. Sounds like a win-win to me!