Finding the right tools can be intimidating when trying to grow your sports organization. To become a high-performing org, you need to make good use of fan data and help each of your teams work together more efficiently. Here are a few pieces of the fan engagement puzzle to get you thinking about where you can focus next.
---
1. A fan data platform: All your data in one, accessible place

The biggest obstacle for many sports organizations is using fan data effectively. You probably have all kinds of data, from all aspects of your business. Ticketing data over here. Email metrics over there. Sponsorships somewhere back here.
Once these separate sources are pulled together, you can start to see a complete picture of your fanbase. This helps you personalize your sales and marketing efforts, which means more effective campaigns, more engaged fans, and more revenue opportunities.
2. A form builder: Gather data in a usable format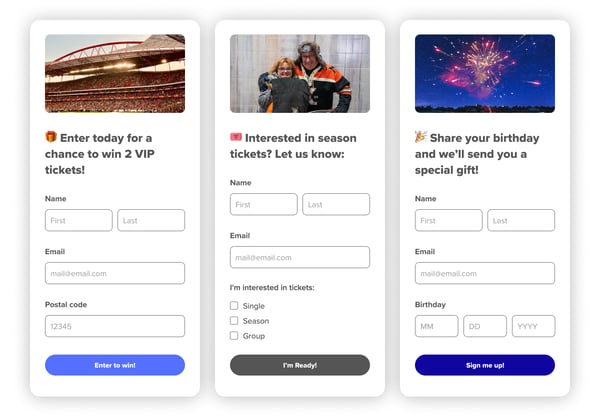 A quality form builder can be useful for several reasons. It allows you to identify new fans, manage contest entries, gauge ticket interest, and even fill in gaps in your fan data. Being able to publish a form and share it with fans quickly can save you a lot of headaches when you're in a crunch.
When choosing a form builder, the most important thing to look for is a way to get the responses back into your data platform so you can use them later. Many tools require you to export complicated spreadsheets that are difficult to sort through, so be mindful of this when you choose a tool.
Many tools require you to export complicated spreadsheets that are difficult to sort through, so be mindful of this when you choose a form builder
Typeform and Google Forms are great tools for building your own custom forms and sharing them. If you want to create a beautiful form but skip the messy export, our FanThreeSixty Forms map directly back into your fan data so you can set it and forget it.
3. Relevant audiences: Personalize your sports marketing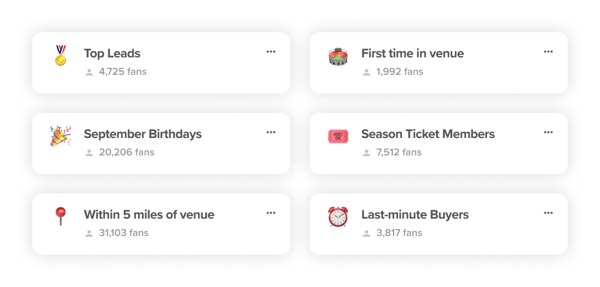 Effective marketing starts with knowing your audience. In the sports industry, targeting based on events or fan behavior is obvious, but getting those lists can be difficult.
It's easy to make the mistake of casting a wide net and sending all of your content to every single fan. Sometimes the results may look similar, but doing so will increase your chance of irritating fans who don't feel the message is relevant. Your marketing efforts are most effective when a fan feels like you are speaking directly to them.
4. Marketing channels: Engage fans in a meaningful way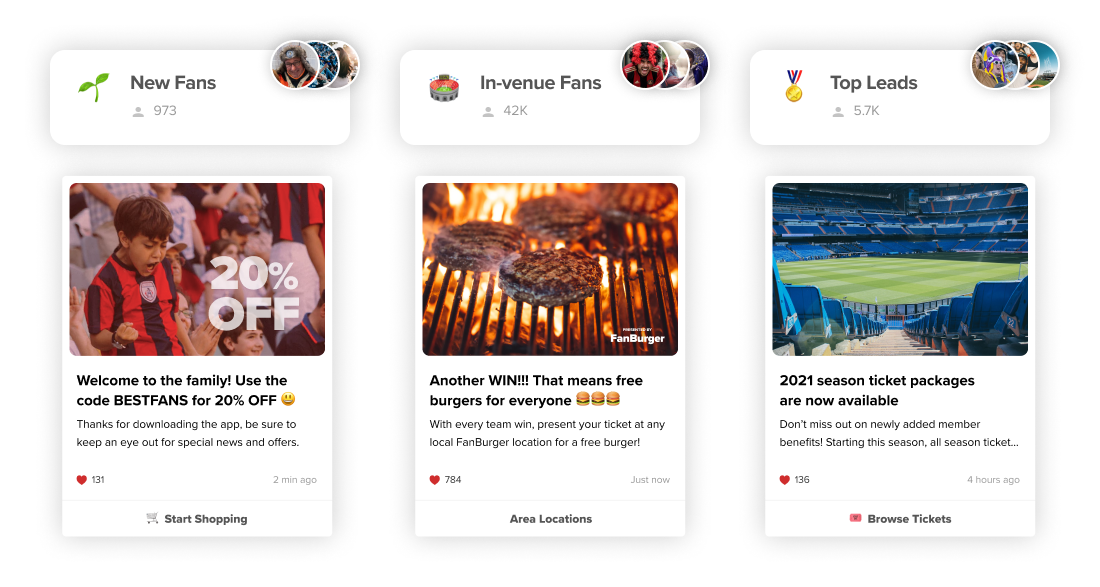 What should you do with fan data and audiences once they're ready to use? Speak to your fans in a meaningful way!
Fan engagement tools commonly used by athletic departments include:
📱 mobile apps
✉️ email platforms
💻 websites
❤️ social media tools like twitter and instagram
Marketing channels become even more useful when you can personalize the content because of quality fan data
Marketing channels are probably the most common on this list for sports organizations (especially social media), but they become even more useful when you can personalize the content because of quality fan data. On top of that, with a mobile app or email solution like FanThreeSixty's, you can learn more about fans during each campaign and feed that info back into your data platform.
5. Automated workflows: Speed up fan activations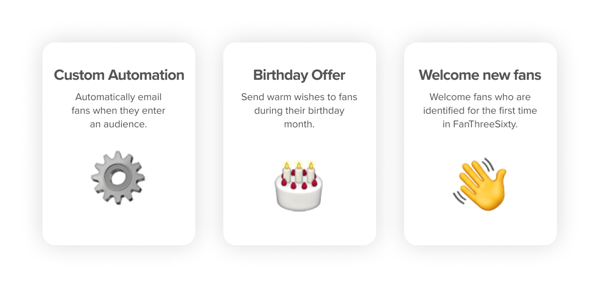 One of the most common challenges for sports orgs is how to function with limited resources, especially on gameday. Instead of letting your activations take a backseat to other responsibilities, automated workflows can give you the option to schedule messages for the perfect moment.
Some of the most common scenarios we try to automate are:
👋 Welcome new fans when they're identified
🎁 Send fans a gift or offer on their birthday
🎟 Thank ticket buyers when they purchase
⚽️ Send an event day guide for attendees
🤗 Thank fans as they leave the venue
🎉 Sending a series of trivia questions
6. A CRM: Increase sales team efficiency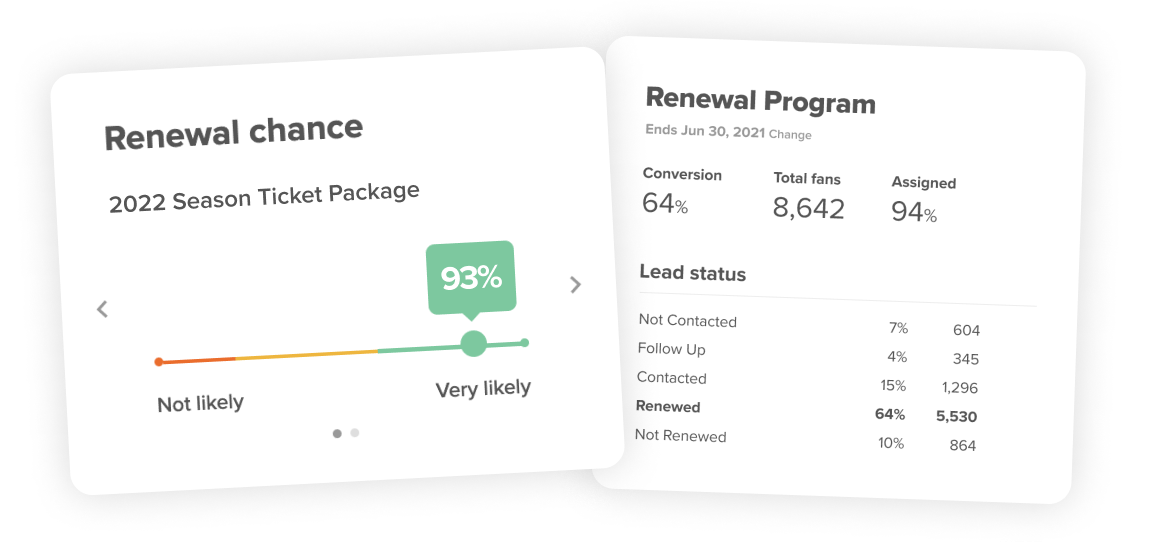 The best way to optimize your sales efforts is knowing who to call first. At the most basic level, you need a CRM that can create an audience of sales leads and then provide a way to track the status of each fan.
With more advanced tools, you can do much more:
Import from any source and remove duplicates
Keep track of touchpoints and team productivity
Measure conversion percentages
Create separate sales programs based on ticket packages or specific audiences
With FanThreeSixty Sales, every fan profile is packed with insights about demographics and fan behavior. You can get a complete picture of every fan, view a history of interactions from previous sales campaigns, and leave notes throughout the process.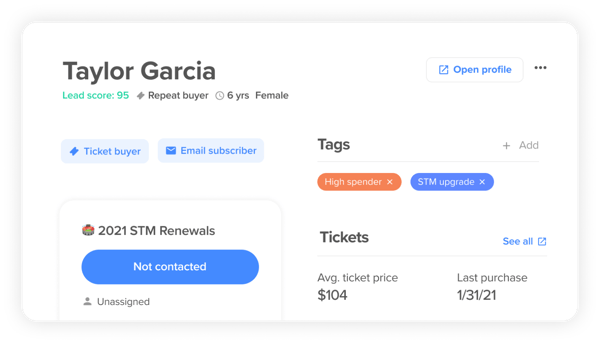 We also allow you to customize your statuses, so that you can have relevant workflows for every sales program.
7. A sponsorship asset manager: Understand potential value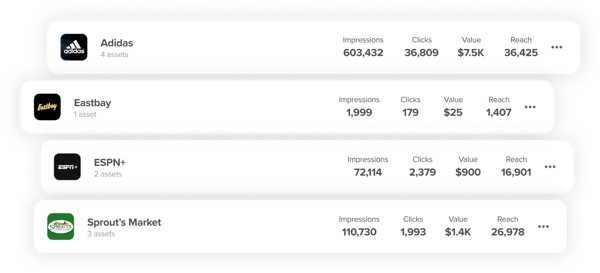 Any given season, teams have countless digital sponsorships to manage and report on. A sponsorship tool should help you manage digital assets and report on impressions & engagement.
For teams with less mature sponsorship processes, it can also be helpful to gauge how valuable each asset is based on its performance.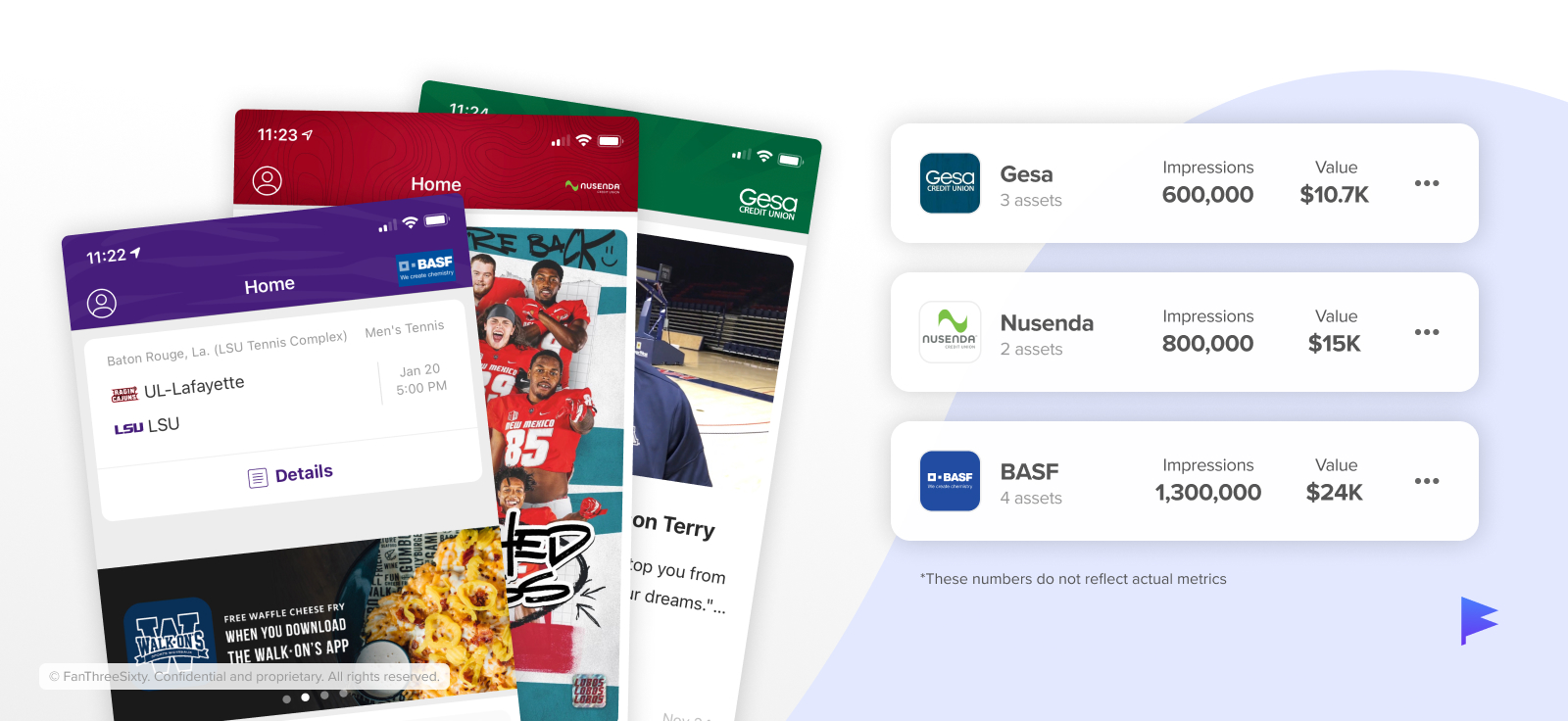 ---
Summary
The industry is changing before our eyes, and these technologies are sure to become even more important for every college athletic department to adopt. A data warehouse or mobile app isn't enough anymore – you need a complete solution of tools that work together to increase the efficiency of your team and grow revenue.
FanThreeSixty is always looking for top-notch partners in college athletics. If you or your team want to level-up and make complex challenges simple, contact us today!