There are over 2.2 million apps to choose from in the Apple App store and 2.8 million in the Google Play store (BuildFire). All of these options make it difficult to stand out in an over-crowded market, which can negatively impact app downloads and daily engagement.
With this challenge, Phoenix Rising FC approached FanThreeSixty to develop and deliver a mobile app that could cut through the clutter. Together, they developed an app that not only meets fans where they are 365 days a year, but also gives them a personalized experience beyond gameday.
Prior to launch, Phoenix Rising developed a multi-channel promotional campaign to drive app downloads. The plan included personalized communications, incentives and exclusive in-app content in order to hook registered fans from day one.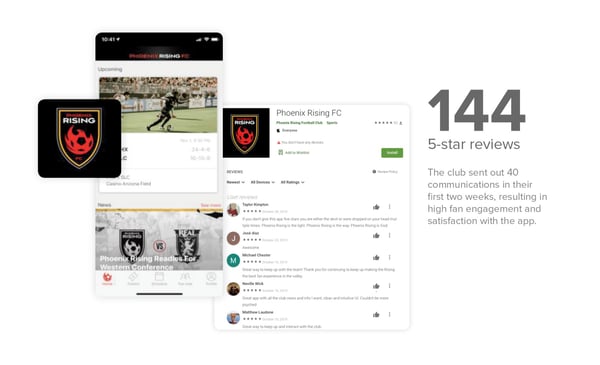 How Phoenix Rising Achieved Success
The Club shared exclusive content and give-aways both on social media and in the app. This let Phoenix Rising reach the right fans at the right time across all mediums, strengthening existing relationships, establishing new ones and prompting significant downloads.
Think Loud:
Phoenix incentivized fans to download the app with a give-away that the Club's Vice President, Sam Doerr, even got in on. To drive downloads, Sam tweeted at fans that they could win suite tickets and a jersey if they shared a screenshot of them downloading the app and tagging Phoenix's official Twitter account.
In return, Phoenix's timeline was filled with excitement and screenshots of the newly-designed app which garnered over 2,100 downloads in the first 30 days after it launched.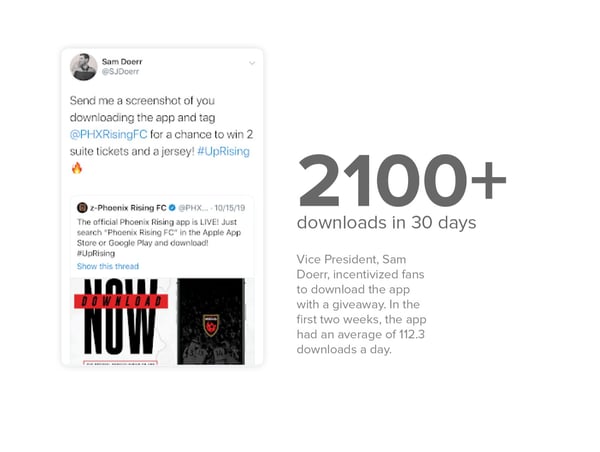 Push and Pull:
To increase app promotion and drive that "fear of missing out," they targeted users who had downloaded the app with an interactive player prediction poll. Respondents were instantly entered to win a signed jersey.
App users received a personalized push notification prompting them to open and enter the give-away, resulting in a 95 percent engagement rate. To compare, FanThreeSixty's clients see an overall average engagement rate of 44 percent.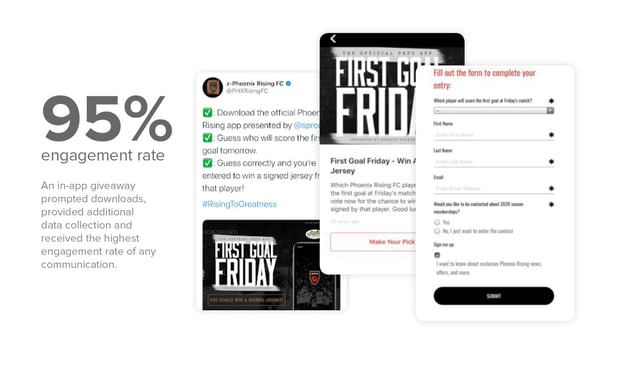 Hook Them:
After giving users creative reasons to download the app, Phoenix took it a step further by implementing an in-app content strategy to hook users and keep them engaged.
Phoenix continued to utilize social media to tease fans with exclusive content that would be dropping in the app as a way to showcase it as the most accurate and up-to-date source for all team information.
For example, on Twitter the team shared it would be announcing the signing of a new player at a specific time in the app before they announced it on social media and various platforms, giving fans a reason to go download the app.
Building exclusivity with fans is essential to building relationships, and something Phoenix Rising FC has excelled in through its in-app content strategy.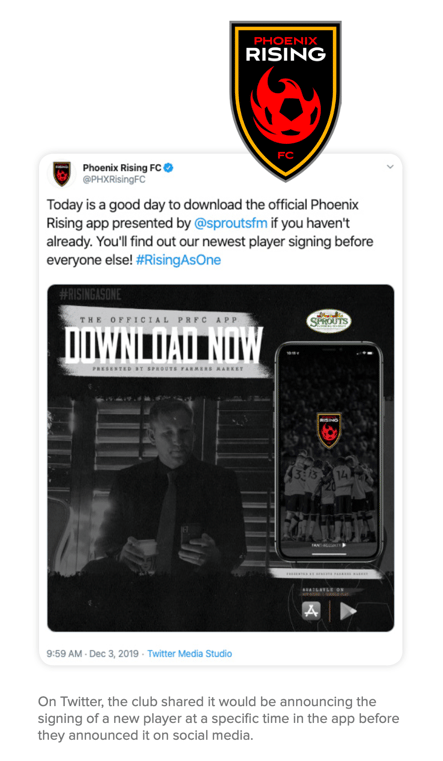 The Results
By utilizing social media and creating personalized interactions, Phoenix Rising FC has been able to extend and grow its following beyond gameday. The results are increased app downloads and significant engagement with fans before the 2020 season kicks off.
Over 2,000 new users in 30 days
Over 40 in-app communications in a month
Average engagement of 35% in the first two weeks
Over 150 5-star reviews in first two weeks
Average of 112 downloads a day in the first two weeks