People are watching Ukranian table tennis. Yep, you read it right.
The social-distancing-approved matches, played in empty arenas with 12 or more feet of space between opponents, have gained traction during the world's live sports hiatus. The rising popularity of a relatively obscure sport reveals what fans are seeking during this highly unusual time—connection.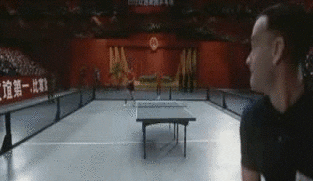 This is definitely from Forrest Gump, but you get the idea.
If it wasn't clear before, it certainly is now; sports are the ultimate relationship builder. Sports obviously connect fans with teams and individual players, but they also connect fans with other fans—even opposing ones—and on-air personalities with rapt audiences. Sports unite local companies in different markets, familial generations passing down traditions, neighborhood kids playing pickup games, and entire communities that rally around their teams à la Friday Night Lights.
And right now, when all of these people would normally be gearing up for basketball and hockey playoffs, celebrating baseball home openers or enthralled in regular-season soccer, it's easy to see why fans miss having something to root for. In lieu of live events, individuals and organizations are exploring ways to "event-ize" virtual experiences to create those missing moments of connection.
Coaches like Bill Self of the Kansas Jayhawks are live-tweeting re-airings of iconic games, providing a behind-the-scenes glimpse of strategy and play calling.
Felt good with ball in Sherron's hands. I blow this possession told Sherron my fault.

— Bill Self (@CoachBillSelf) March 22, 2020
Love him or loathe him, commentator Joe Buck is applying his skills to people's most mundane #StayAtHome moments via Twitter.
Did the Hackney Family create a 5th major? I would love to see @rogerfederer take on @rafaelnadal on carpet. Great job boys and thank you @hackneytraci for sending this in. #Quarantennis #goodnight pic.twitter.com/VEMfqRwLwm

— Joe Buck (@Buck) March 26, 2020
NASCAR and IndyCar are each holding iRacing events with top drivers racing from in-home simulators. The two organizations, which have notoriously separate fan bases, are set to come together for a doubleheader iRacing event in July.
With @JimmieJohnson running in Saturday's @IndyCar @iRacing event, that has series champ @TonyKanaan wondering if he could run in the @NASCAR #ProInvitationalSeries.

The hope being, that iRacing can help unify the two fanbases. pic.twitter.com/JnkcU8jTko

— NASCAR on NBC (@NASCARonNBC) March 27, 2020
NFL superstars went head-to-head in a live Madden tournament in support of COVID-19 relief efforts and, of course, bragging rights. The Twitter trash-talking was bound to be an event in itself.
The semifinals are set. Who do you have taking it all tomorrow? 🤔 pic.twitter.com/hPgd6tl5KL

— The Checkdown (@thecheckdown) April 2, 2020
Fans are determined to be fans, regardless of circumstance. Take it from someone who, until 2015, spent their entire life enduring season after season of heartbreak in support of the Kansas City Royals. And until just this year, had the same tireless experience with the Kansas City Chiefs (fortunately, I now get to "ReLIV" the iconic victory). Despite knowing disappointment all too well, fans across all sports are experts at licking their wounds and coming back more enthusiastic than ever.
The same resilience of spirit is evident now. People will continue to reach for all things sports. In a time when we can hardly classify anything as remotely normal, let alone all right, rest assured that the fans are all right. Or rather, we will be. Just ask the International Table Tennis Federation.