It's the beginning of a new year, a new decade, and New Year's resolutions. With almost a full month of 2020 under our belts, the FanThreeSixty Data Science team sat down and created new goals that will lead our clients to more actionable insights.
By choosing these four New Year's resolutions, along with the paths to follow them, our Data Science team is looking to reach new heights, exploring the unexplored in fanalytics this year.
Deliver insights based off the highest quality data
If you want to know which of your season ticket members are most likely not to renew, or the best time to send a push notification to your fan base, then we're your go-to team. These types of insights drive our curiosity, but most importantly, they are what drive your business and lead to more revenue.
Insights are not possible without ensuring our clients' data is clean and accurate. This is why data scientists spend about 25 percent of their time cleansing data after it's gathered. While FanThreeSixty has always focused on high-quality data, we will spend 2020 ensuring our predictive models and insights are only built with the most fresh and accurate data. We don't drink spoiled milk, so why would we use bad data?

Continue treating our client and fan data with care
Our most important resolution for 2020 is related to treating the data that we gather both mindfully and ethically. We strive to find new ways to help our clients' fans understand how their data is being used so that they can make better, more informed decisions about what to share. To put it shortly, we like to put the fans in control, giving them the choice on how their data is used.
Consumers are becoming more aware of how companies collect their information and put it to use. In fact, blis found that two in three consumers are aware that their personal information is being used and 83 percent of people know that their location is tracked.
Consent is crucial when it comes to data privacy, and we are working to put FanThreeSixty at the forefront of this conversation with full transparency. We commit to keeping our clients and their fans informed of how their data is being used, while giving them the option to opt out.
And, of course, we will continue keeping their data secure and private. Data is one of the most valuable assets, and its privacy should be treated as such.
Cultivate a culture of innovation
One of the most exciting parts of data science is its exponential growth. The field is expanding rapidly, becoming much more accessible and creating a high demand for up-and-coming data scientists. The Bureau of Labor Statistics (BLS) predicts nearly a 30 percent growth in the data science field by 2026, which would create over 50,000 new jobs.
To keep up with the high demand, new programs are popping up in colleges and universities all over the world to help support and train the next generation of data scientists.
As a team, we are committed to staying curious, lifetime learners who stay up-to-date on the latest programs to ensure we are using the best techniques. Through our summer associate program, we will prepare and educate up-and-coming data scientists with real
hands-on experiences that feed and drive their own curiosity.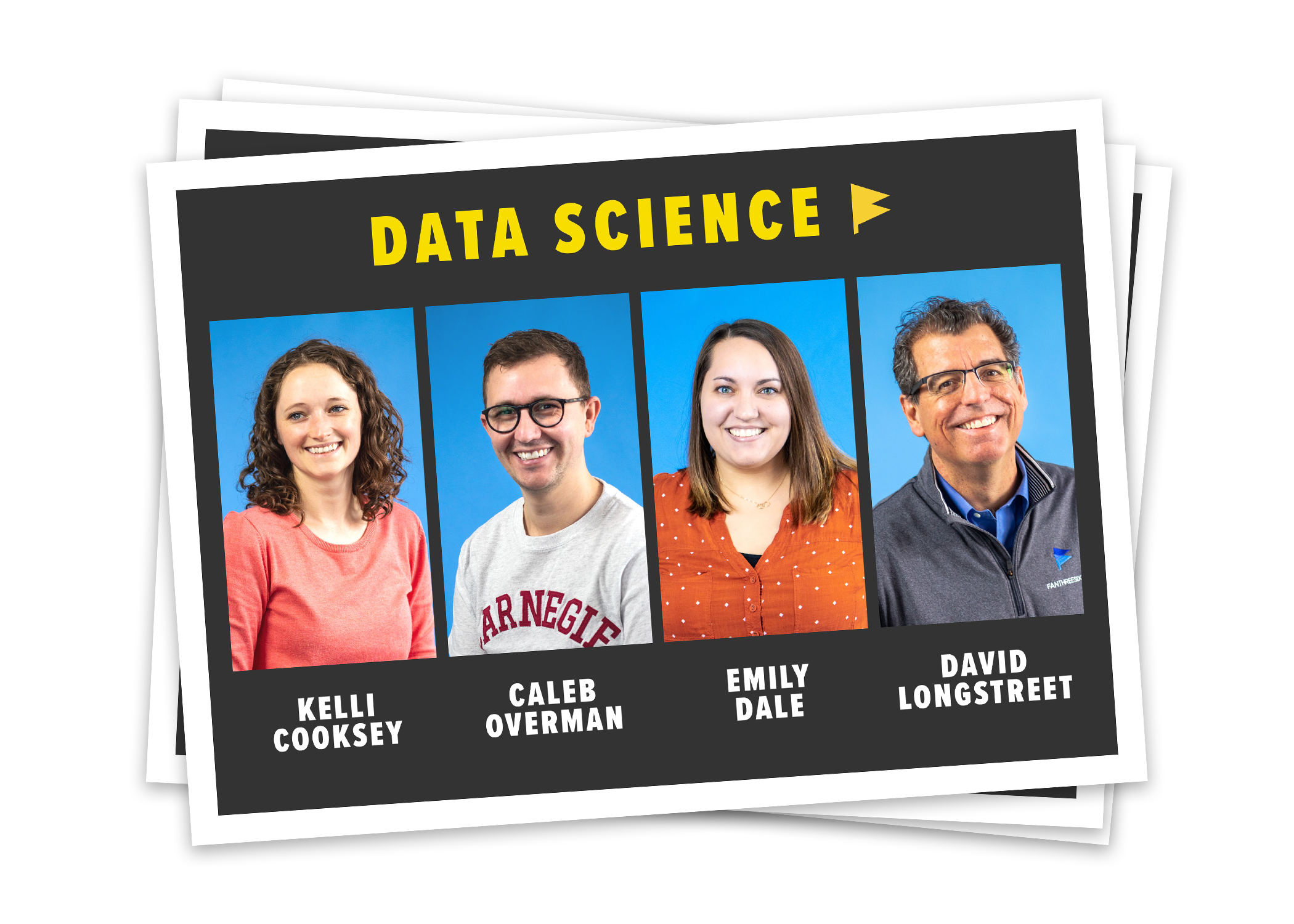 Launch new features based on what's best for our clients
With the growth of data science comes the growth of the hype around it. We've heard all the buzzwords, and we've collectively been let down on the promises of those buzzwords. At FanThreeSixty we want to make a change this year in how we talk about data science, and even how it's implemented.
Instead of finding the "next big thing" and forcing it upon our clients, we want to find ways to make data science work for them. We will spend time actually talking to the users of our products so that we can improve their experience. We'll continue sitting down with teams to listen to what they're excited about, and learn about their focus for the future of the team, so that we can incorporate that into our work.
Looking Forward
The end of the year is a great time to reflect on the challenges, progress and growth from this past year to continue building on our success. This year, you can expect big things from the FanThreeSixty Data Science team. We are already hard at work on surfacing new insights, and we're looking forward to hearing from all of our current and future clients to see how we can help them achieve success with data.
From all of us at FanThreeSixty, happy New Year!