Quick -- how many apps are installed on your phone? And, of those, how many apps do you actually use regularly? We'd venture to guess that the answer to the former is "a lot," and the response to the latter is something like "only a few."
There are between 60 to 90 apps installed on the average smartphone, which might sound like a lot. But choosing only 60 to 90 apps out of the millions available actually shows how selective people are with the content that lives on their devices.
Sports teams and organizations need to get creative in how they stand out in a crowded app market. To do this, they have to create a marketing plan that has two main goals: 1) Drive downloads; and 2) Capture as much post-download screen time as possible with that fan.
FanThreeSixty and the New Mexico Activities Association (NMAA) teamed up to deliver a 60-day competitive, multi-channel campaign to promote the NMAA mobile app and drive downloads. The plan, which included weekly personalized content, resulted in an 88% increase in active app users and 68,000 screen views during the contest.*
*Screen views refer to the total number of screens viewed while in the app
The Approach:
NMAA launched a friendly competition, from January to March 2020, between its schools to encourage students, faculty and staff, and its broader fan base to download the official NMAA app for 24/7 news and information. Each high school was charged with executing its own hyper-local campaign, all in pursuit of a $1,500 prize awarded to one small school and one large school that amassed the most downloads.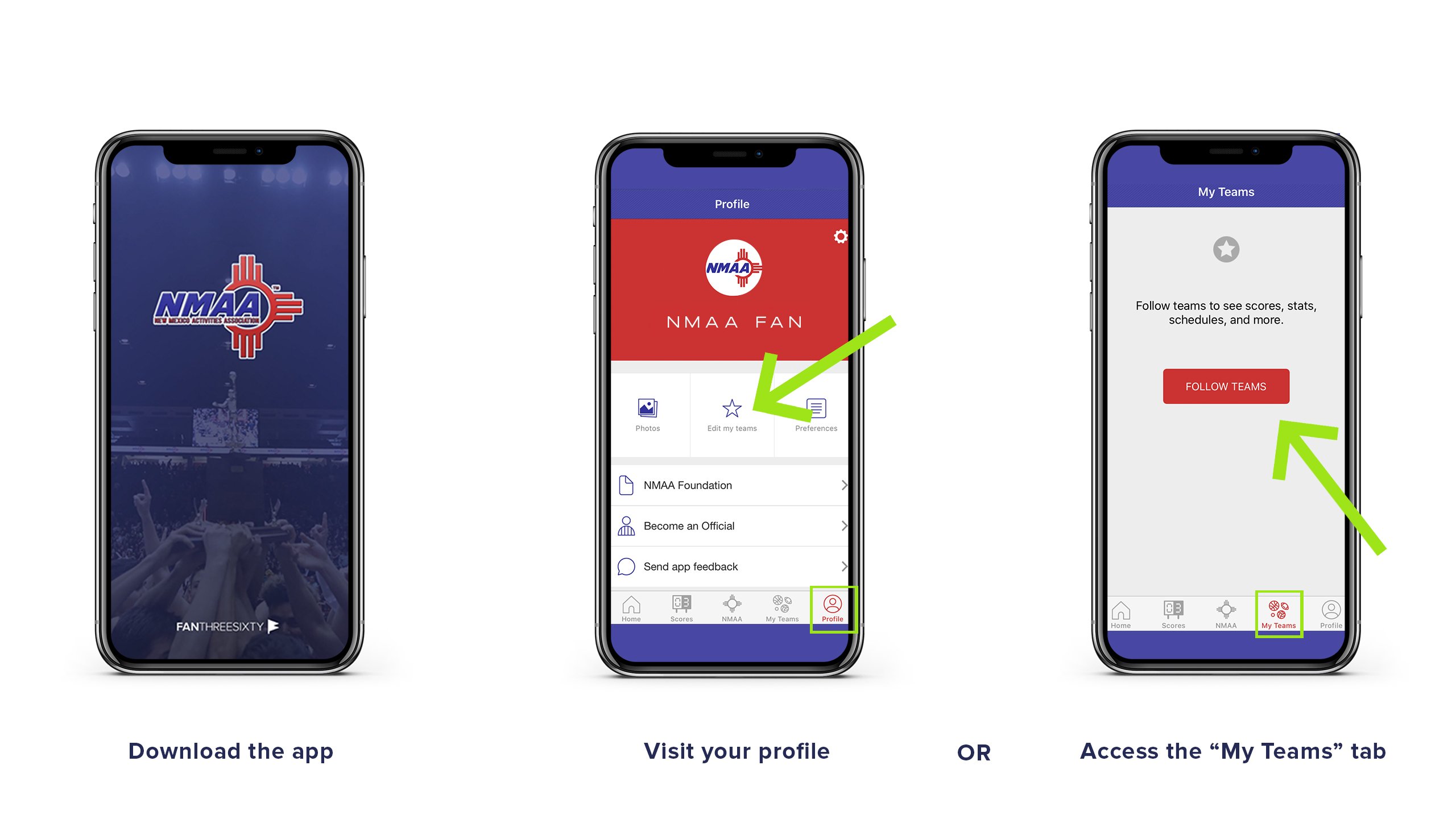 FanThreeSixty created campaign-specific graphics for NMAA to share across its social media platforms and in the app over the course of the challenge. At the end of each week, NMAA posted a leader board to show which schools ranked in the top five for most app downloads.
How NMAA Came Out on Top:
The organization shared highly tailored campaign content and capitalized on its built-in network of school officials, faculty and staff, and students to promote the challenge.
With a strong call-to-action, NMAA schools took to social media to spread awareness. Using their respective social media accounts, schools promoted the app with the campaign-specific content FanThreeSixty provided, along with their own videos and other engaging content that they knew would resonate with their fan bases, to drive downloads. Robertson High School, for example, knocked its activation out of the park:
Motivate and Encourage:
NMAA recruited its Sports Information Director, J.P. Murrieta, to fire up students and encourage them to spread the word. In a video that was shared on the NMAA Instagram, Murrieta reminded followers to get all of their friends, relatives, parents, grandparents, and even people off the street to download the NMAA app. With nearly 500 views, the call-to-action definitely generated FOMO among younger fans and pushed followers to compete to win $1,500 for their school.
Leaning into Seasonality:
Throughout the course of the challenge, NMAA had some fun creating seasonal content, as illustrated by its Valentine's Day post They encouraged followers to "share some love" on social media and further accelerate the app download competition.
Final Push:
During the last week of the challenge, NMAA took a different approach to boost app downloads. As several schools were neck-in-neck in the final days of the challenge, NMAA posted a point spread to motivate schools to do whatever they could to continue driving downloads.
And motivate, it did; Robertson High School was in second place at the start of the week when the point spread was promoted. By the end of the week, the school saw nearly a 50% increase in app downloads, landing Robertson High School in first place by week's end.
It's down to the final stretch of the NMAA 24/7 App Download Challenge. Will your school win $1,500 from Fiesta Auto Group? Cleveland is in the lead, but Santa Fe HS is right there with Los Lunas not far behind. Texico, Robertson and Santa Fe Indian School are in a close race. pic.twitter.com/KNnMsrhZEV

— NMAA (@_NMAA) March 4, 2020
Results:
By getting competitive and creative—and mobilizing its individual schools to do the same—NMAA nearly doubled its active app users, going from about 1,700 active users to about 3,200 active users by the end of the 60-day challenge.
37.6% increase in NEW Registered Fans
2,000 average views per communication sent
165 average open rate
20,173 App Sessions During Download Challenge
68,320 Screen Views During Download Challenge
When NMAA sports pick up again in the fall, the app will already have a strong user base, primed for even more growth and engagement with fans, the teams and their sponsors. We can't wait to see how NMAA continues to make the app central to gameday and beyond.