Every day people make thousands of tiny decisions about how to spend their time. Hit snooze or wake up. Listen to the radio or listen to podcasts. Check emails or scroll through Instagram.
Time is our most valuable resource. So if you want people to invest their time into your product (or into anything, really), you better give them a good reason.
Sometimes we (marketers/techies/designers) assume that if we make an app, a website or an email that everyone will love it and use it. It's the "if you build it, they will come" mentality. Or sometimes we think we need those things because our rivals are doing it: "We need an app because that's just what sports teams do!"
Sometimes we (marketers/techies/designers) assume that if we make an app, a website or an email that everyone will love it and use it.
I'm not saying that building an app is a bad idea. What I'm saying is that jumping into the process without thinking through the fan's perspective will never work. There are countless other ways for fans to follow and take in sports, so they need a good reason to change their behavior. Without a good reason, the app will collect dust as they check scores on Google, Yahoo Sports, and ESPN, just like they always have.
When launching a new app at FanThreeSixty, we ask our clients the following questions to make sure they're including a great fan experience.


What can this app offer that others can't?
The first thing to remember is that not everything in your app has to be 100 percent unique. Stats, schedules and rosters are expected—fans will obviously be looking for that information at some point. We call that type of content "table stakes." You have to include it simply for a seat at the table, but it's not going to send your app to the top of the charts.
For example, let's say I'm a fan of a brand new NBA team: the Kansas City Briskets (KCB). I bought season tickets and an authentic Lebron Briskets jersey from the team shop. Now I need a way to follow the Briskets when they're out of town, or maybe while I'm at the grocery store. So I open up the sports app that I already have and update my favorite teams to follow KCB. Done. The thought of downloading the Official Briskets app never came into play.
There are some gaps in my experience that a basic scores app can't help me with, though. Because in this fake world where 'Bron plays for the KC Briskets, I'm also a successful business man who travels all over visiting clients. But as I listen to the game, signals from the local radio affiliates drop whenever I drive out of range. This means that I will need a way to listen to the game wherever I go. Creating a way for me and other fans to exclusively listen to the KC Briskets is THE reason to get me to download. My motivator is that I can't get the game anywhere but from the KC Briskets app.
Some other examples might include digital tickets and loyalty or rewards programs. Anything that solves a problem for me, a genuine Brisket fan, can influence me to download the app.


Who do you want to use it?
You may only want to focus on one of these groups or a similar audience. Either way, it helps to prioritize the features included in the app and visualize how the fans will interact for a given event.


In-venue vs. out-of-venue
In sports, there are two very distinct fan groups for every event: fans in the venue and fans following at home. They're both going to use your app, but in different ways. Radio streaming is an important feature for out-of-venue fans who want to stay up with the game. Fans who attend the game may want mobile tickets or the ability to scan a rewards card when they purchase concessions and team merchandise.


Season Ticket Members
We find that 80 percent of Season Ticket Members (STM) are also app users. STMs spend a lot of time in the venue, they're usually more emotionally invested in the results of games, and they pride themselves on being in-the-know. STMs enjoy being the first to receive exclusive content and updates about the team or the organization as a whole.


First-time Buyers
First-time Buyers offer a great opportunity to send targeted messaging to enhance their experience. They may not know the venue well, so you can send them a "Welcome!" message along with an interactive map or concessions menu. It's important to nail this first experience, because you will want First-time Buyers to become Repeat Buyers. The app can be a tool to guide new fans through the gameday experience and nudge them to come again while making them feel instantly connected to the team.


What is the one thing that will give fans a reason to download?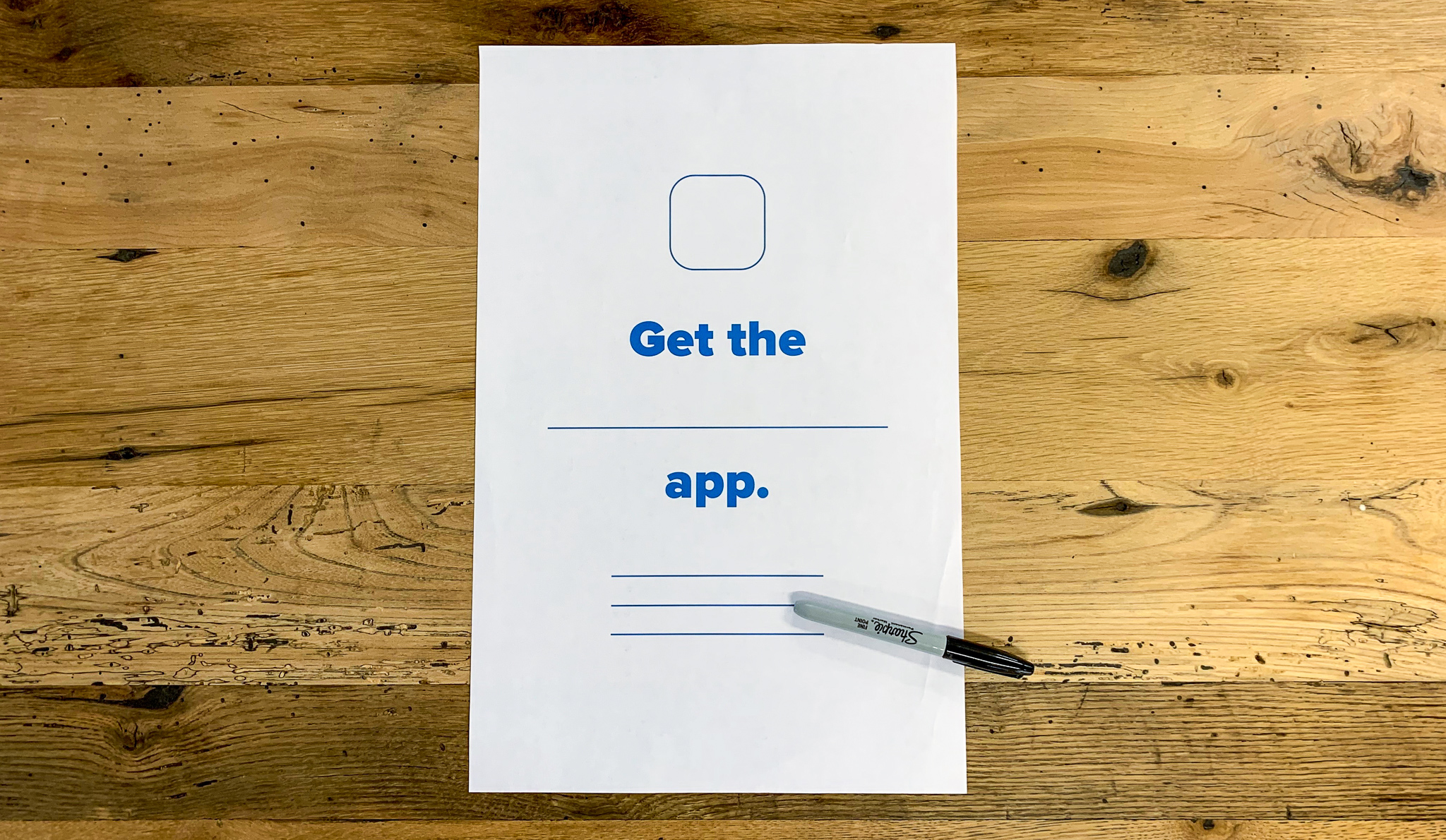 There's a fun exercise that our team likes to do to visualize this idea:
Imagine your app in the app store, right next to every other app. Next to ESPN. Next to your rival team. Next to Snapchat or TikTok or whatever is hot right now. Now that you have that pictured, there are a few important questions that come up when comparing apps. What's the icon look like? What's your app called? And can you convince me to download it in one sentence?
"Can you convince me to download it in one sentence?"
Using a few of our clients' apps, I tried to explain their importance in one sentence. Some of these apps might have overlapping features, but all sports and events are different, which means the fans are looking for different things.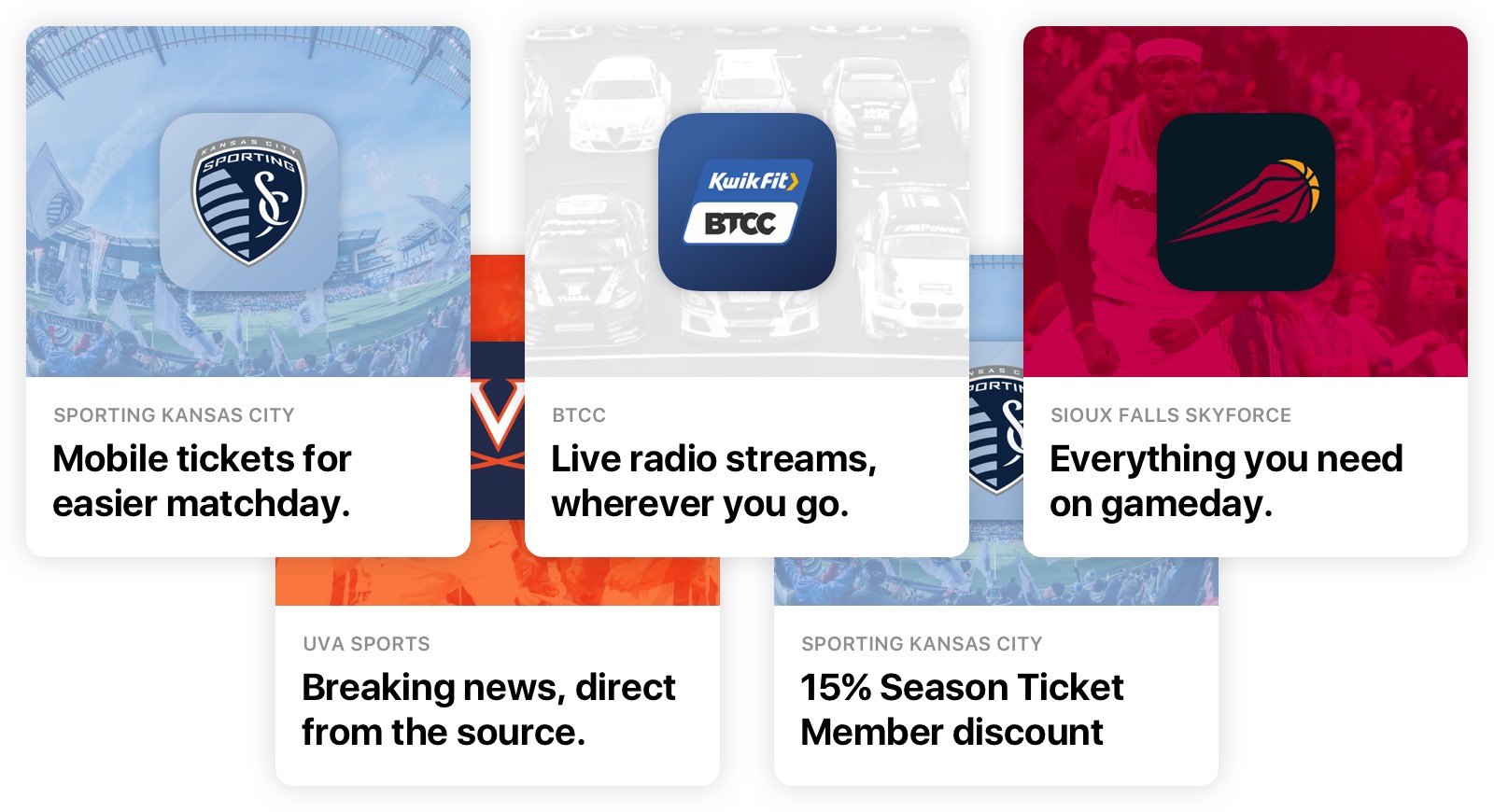 What content do you plan on offering?
Keeping personalized content in your app can result in higher engagement rates than generic messaging. Whether it's messaging that recurs at every event or an important mid-week announcement, keeping easy-to-consume content in your app is key if you want users to return. They may not see it right away, but at some point they'll wonder what the team is up to. If there's content there, they can quickly catch up and see what they missed. If there's no content, they won't come back next time they have a few seconds to spare.
"If there's no content, they won't come back next time when they have a few seconds to spare."
Content we've had success with includes:


Video/Audio Streams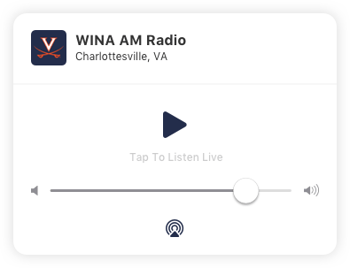 After we released live audio feeds for University of Virginia football and basketball games, we saw over 34,700 audio sessions over the next six months.


Recurring in-game content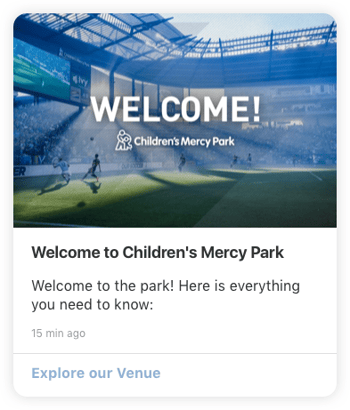 Some examples of this might be "Welcome to the Stadium", "Check out tonight's lineup," or "Briskets Win! Read the game recap."
Not the most flashy type of content, but it's important to build trust with users by sending regular in-game and post-game messaging. They'll remember this the next time they miss a broadcast and need to know the final score. And by doing so, you're making the app a key part of their gameday behaviors and habits.


Trivia & Contests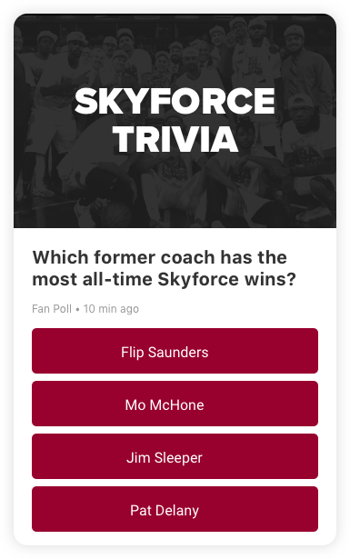 Content that gives fans the chance to interact almost always produces higher engagement. Fans enjoy testing their knowledge or sharing their opinion. In a recent trivia contest for Sioux Falls Skyforce, 52 percent of app users participated every day in a three-day contest.


Discounts & Offers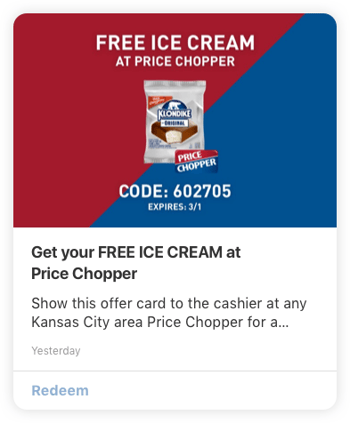 Fans love free offers and discounts. Promote discounted merchandise and offers through your app to increase revenue and drive traffic to different areas within the venue.


Breaking News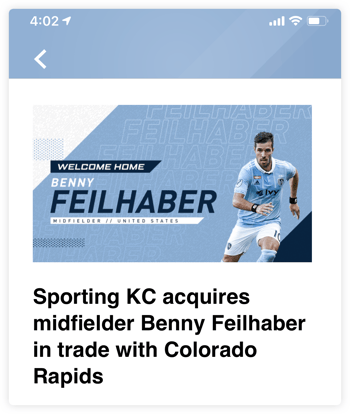 Player acquisitions, injury reports, jersey reveals: These are the different types of content that make people want to drop what they're doing and open your app.


Schedule & Brackets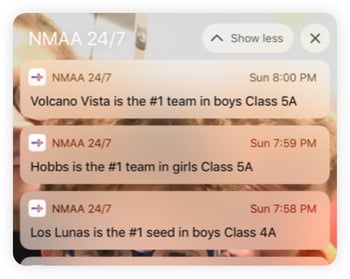 The New Mexico Athletic Association signed up 440 new users by releasing playoff brackets, exclusively in the app, two hours before they were released elsewhere.


Downloadable Content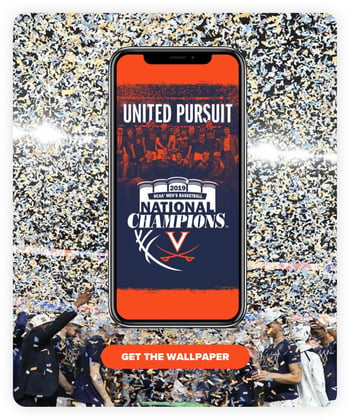 After the University of Virginia won the NCAA National Championship, more than 1,600 fans downloaded an exclusive phone wallpaper through the app.


What are your business needs for the app?
Thinking about your app through the lens of business needs can also help prioritize features and content. For example, if your no. 1 priority is to learn more about fans' in-venue spending habits, then featuring a prominent loyalty card in the app can help track that. This also gives fans a reason to use the app at an event.
We've worked with teams and venues in a variety of sports all over the world and have found that most have similar goals. Below is a list of some of those common goals and how we can help achieve them.
| | |
| --- | --- |
| Goals | Tactics |
| Verifying attendance | Geolocation & Wi-Fi & mobile ordering |
| Filling gaps in fan data | Birthday offers |
| Understanding spend patterns | Loyalty & rewards programs & mobile ordering |
| Reducing concession lines | Mobile ordering |
| Sponsorship | Exclusive Content & Offers |
| Identifying new fans | In-game promotions & offers |
Summary
Every app should be built for the fans with an understanding that every fan base is different in what they want. But whether they follow different sports, live in different cities, or even live on different continents, every fan has to make the same split-second decision to invest time into downloading your app. And every one of them needs a good reason or they'll keep scrolling through Instagram.