Contrary to the tech- and social media- savvy students who comprise high schools across the U.S., the high school associations themselves can seem a bit archaic as it relates to student engagement. Determined to break the mold, Washington Interscholastic Activites Association (WIAA) set out to radically change how it connects with students across the state.
WIAA created a brand strategy with its own personality, one rooted in transparency, consistency and empathy for all who engage with it. And to add to its successful digital platform, it launched the WIAA Live Mobile App, powered by FanThreeSixty.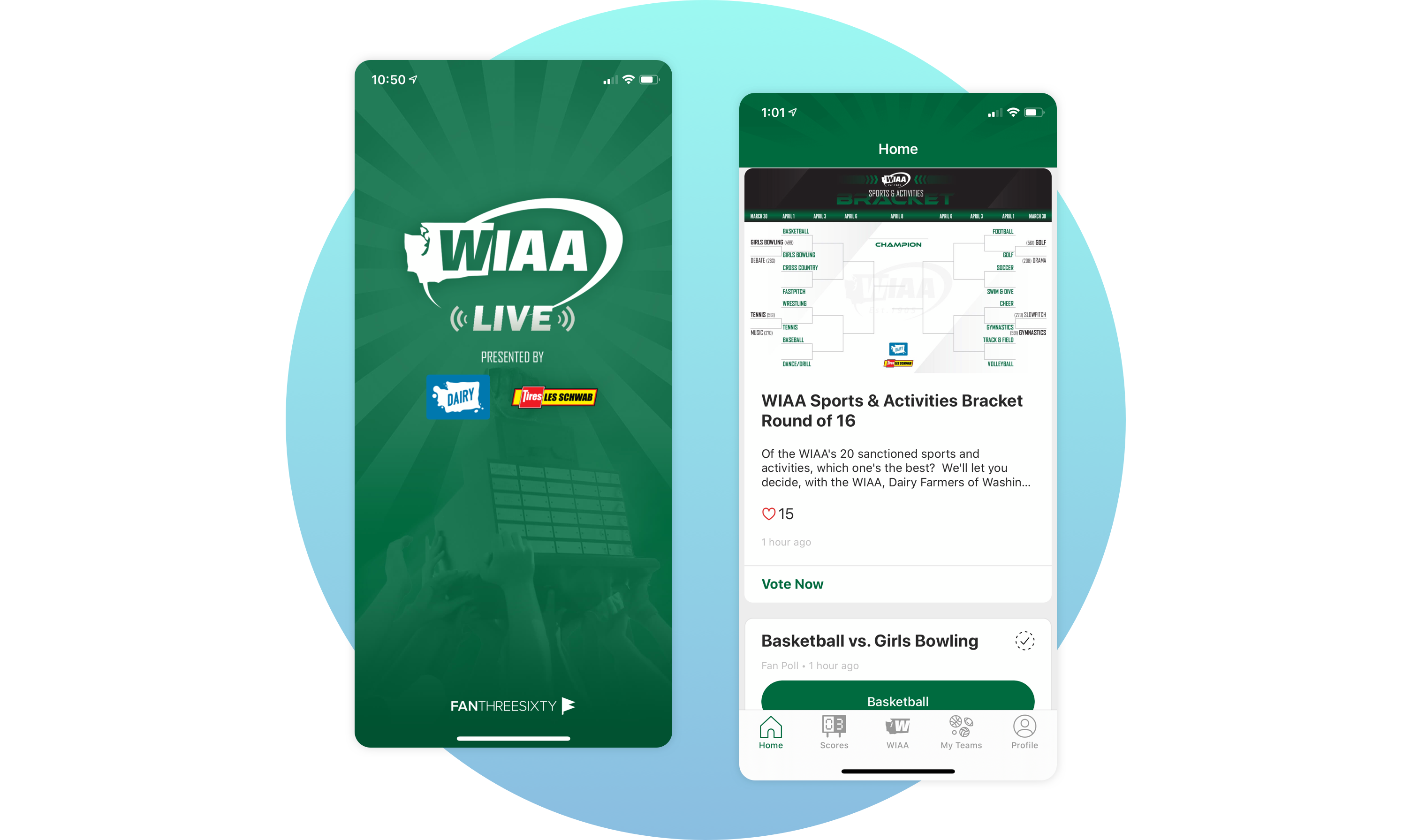 Since its launch in November of 2019, WIAA has seen nearly 30,000 downloads, which is the fastest any FanThreeSixty mobile application has reached in downloads and registrations. Additionally, the number of registrations is equivalent to 64% of the number of people who follow WIAA on Twitter. This is staggering. Most other successful mobile applications have between 10-30% of the number of Twitter followers. Oh, and did we mention WIAA did it without offering a single incentive?
Many of these app registrations are tied to WIAA's dynamic marketing tactics and engagement efforts. "For example," said Andy Knapp, Director of Marketing, Promotions and Corporate Partners, "We treat each state championship as its own major event, marketed in the app."
Before launching the app, Andy and the broader team created a strategy to position the app for success in the market and with its fans, all while delivering an enhanced digital experience. They also developed and executed promotional materials and signage, like the example below, to gain organic traffic and generate broad awareness.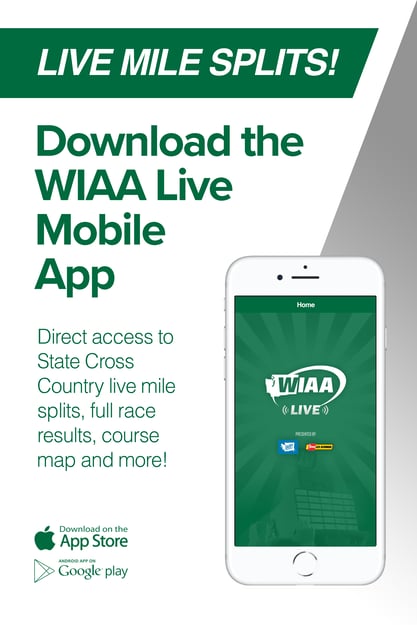 So what is the game plan exactly?
Communicate with Intent

Stay Consistent with Message and Aesthetic

Be Credible

Evaluate and Pivot

Become the Fan
Communicate with Intent
In a mission to manifest a personality its fan base would love, WIAA leaned into traditional concepts while integrating new ones, keeping a swift pace to deliver in-app content nobody else had access to.
"Throwback" content and season recaps have been popular ways to keep fans across all sports and high schools engaged. Knapp and his crew are constantly experimenting with the ebb and flow of seasons and sports to find a balance, and any content considered for the app or social media is analyzed regularly to determine whether or not it aligns with the brand.
Fortunately for WIAA, a couple of staff members have knowledge in graphic design and marketing and are able to contribute toward the overall brand identity. Pair those versatile skill sets with their photography partners' craft, and they have established an efficient system for posting in real time, from the sidelines.
Stay Consistent with Message & Aesthetic
On busy weekends where there are multiple events, WIAA hires "coverage personnel," which tend to be college students or former high school interns, to help with content execution. Not only does this give those volunteers a resume booster, but it also allows WIAA to stay on top of its strong content game. To ensure all team members maintain a consistent look and feel cross platforms, WIAA issues a step-by-step manual that differs by social platform and sport. This also lays the foundation for each communication.
To engage students throughout the year and beyond sports events, WIAA also posts regular content like "Athlete of the Week" or "Team of the Month." These activations continue to be one of the biggest engagement pieces in the WIAA FanThreeSixty mobile app.
The "Athlete of the Week" and "Team of the Month" initiatives were some of the WIAA's staples over the last six months, garnering some of the biggest engagement in the app.
Be Credible
The mobile application, paired with social media, serves as a place for the WIAA to relay accurate, trustworthy information to its fans. The WIAA works to ensure that interscholastic sports are covered while searching for opportunities to bring new information to its fan base. Live scoreboards and brackets are just part of the exclusive, engaging content native to the app.
Over the last 10 years, WIAA has worked to brand itself as a trustworthy source of information. Mick Hoffman, WIAA's new Executive Director, spent the early part of the year traveling the state, meeting with and listening to various groups across the entire association. This paid dividends with the recent COVID-19 shutdown as fans continued to tune in rather than turn away.
Evaluate & Pivot
Analytics drives the strategy at the WIAA because the ability to identify trends and build habits is key in understanding the fan base in order to deliver the content they crave.
The WIAA team diversifies content across platforms to optimize engagement. They leverage Twitter for real-time, quick-hitting information where they can easily reach young adults and students. Facebook is used for paid events and advertising and allows them to reach parents and grandparents. Instagram is their main brand-building platform where they interact mainly with students. Finding time to dig into the data can often be the biggest challenge for teams with limited resources. However, the app delivers quick insights and engagement analytics that make it easy for WIAA to prioritize this. These efforts ensure fans get the right message at the right time in the app.
Become the Fan
"We use our app in terms of how we use apps," Knapp said. "We really care about how things are organized, what the process is for users to step through in order to access that information, and we build our plan around what information is available for that specific sport."
How does the WIAA get their fans to care? They place value on fans' emotional response. When COVID-19 jeopardized an entire winter and spring championship season, Knapp and his crew took time to grieve with the community, rather than worrying about app engagement and downloads.
A Foundation for Success
When it comes to a mobile content strategy, the list could continue. Boosting followers and engagement can be as easy as "paying to play," as Knapp describes. Paid advertisements and events on Facebook have helped WIAA drive traffic to its mobile app for a small fee. The return on investment has been proven through the nearly 30,000 downloads the mobile app has seen since launching seven months ago.
The WIAA is always adapting its marketing plan to position themselves as a leader in engagement in sports. The organization learns from the past and looks to other leaders in the sports industry for social and mobile content inspiration. Below are just a few of Knapp's favorites.
@trailblazers
@texaslonghorns
@umichathletics
@usc_athletics
@uwathletics
@seahawks
Check WIAA out on Instagram to see for yourselves, or download the app to see how this organization is changing the game of fan engagement.