We work with some of the best athletic departments in the business, and over the years we've learned that sharing ideas and inspiration helps them grow and engage fans better every day. Whether it's gameday checklists, behind-the-scenes videos, or discounted hot dogs, there has been plenty of fun and thoughtful content this football season.
Since opening weekend, we've been collecting our favorite examples, not only to brag about our college partners but also to share what we're learning about fan activations and engagement.
The real key to fan engagement is pretty simple: It's about knowing your audience and choosing the perfect time to send.
The best content falls into a few noticeable themes this year, from sharing helpful tips on gameday to reminiscing about the good ol' days. There's a little bit of everything on this list, but the real key to fan engagement is pretty simple: It's about knowing your audience and choosing the perfect time to send.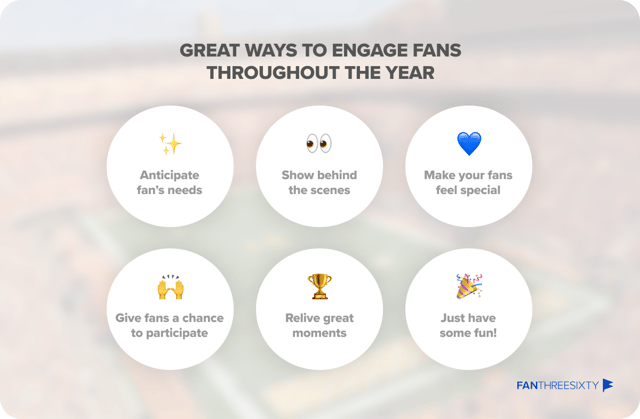 If you're looking to step up your fan engagement game, use these examples of quality content to help spark your next idea.
(All of these content examples come from the universities' official mobile apps, which are powered by FanThreeSixty.)
---
Anticipate your fans' needs
Gameday is always exciting... and always hectic. Fans have to pack the car with tailgate supplies, dig up that old jersey, make sure tickets are ready for the whole family, and stop by the sporting goods store for a poncho if the weather looks bad.
Most of the time, it's an all-day event — which means it's easy to forget something. You can ease that stress by sharing helpful info throughout the day:
🏈 A gameday checklist with parking, gates, and other important info
ℹ️ Changes in venue protocol: Are there new COVID rules or bag policies?
☀️ How's the weather looking at the stadium? Many fans drive several hours on gameday
📱 How to download mobile tickets and be prepared if there is low connectivity
| | |
| --- | --- |
| | |
Show fans what it's like behind the scenes
Fans may spend a lot of time following on-field action, but nothing can make them love a team or player more than catching a special moment behind the scenes.
Showcase one or two behind-the-scenes moments and some fans' loyalty may grow exponentially:
🎥 Behind-the-scenes videos of players in each position group

🎤 A mic'd up compilation about a fan favorite player or coach

📦 Showing the stadium crew get ready for gameday

🔭 Giving in-venue fans a better view of highlights after the event
Make your fans feel special & in-the-know
Every fan wants to feel like they are the greatest fan on earth. Some have spent years learning the ins and outs of your roster, schedule, history, etc. — not to mention their hard-earned cash on tickets and merch. Fans want to feel valued by your front office and brand.
You can make each fan feel special by sending personalized offers or content that helps them be (or seem to be) the first to know:
🍦 Special offers & discounts from sponsored partners or concessions
👕 Early access to announcements like jersey reveals or breaking news
🙏 A simple thank you for being a part of the team's success (or sharing in disappointments)
Give your fans a chance to participate
Over the past few years, there have been times when fans couldn't enjoy sports in person at all. Digital interactions were all that we had, and the digital space continues to become more important as we look ahead.
Giving fans opportunities to get into the action helps them stay engaged over the long haul. It gives fans a true sense of belonging to your community, which also makes it a valuable sponsorship opportunity.
Some ways our clients have brought their fans into the action this year:
📝 Accepting votes for the player of the game. This can also be a great sponsorship opportunity.

❤️ Hit the like button to be entered into a prize or experience sweepstakes

🎟 The University of Virginia offered a commemorative ticket to all fans, which is a creative idea in itself. But not only that, they gave away VIP tickets to a lucky winner who interacted with the ticket.
Relive great moments
Stories are the foundation of sports fandom. Whether it's memories of a championship from decades before or just highlights from last night's game, stories are what bring your community together.
You can revive old content or create new content to relive the good times with your fans. This is a great way to recycle ideas that have worked in the past.
Just have some fun!
Every fanbase has its own personality; your brand shouldn't be afraid to play along!
If you have a student section of passionate fans, speak to them like one of the crew. Take a few jabs at your most bitter rival. Try to make a lame joke every now and then — your fans will forgive you!
---
We look forward to seeing more great content as the football season winds down! And don't forget to contact us today if you're ready to step up your fan engagement strategy with our best-in-class mobile app.
Until next time!